Himalayan Cats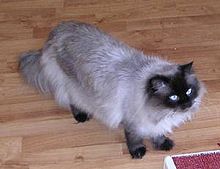 Himalayan Cats came into being when the Persian breed and the Siamese cats were bred around the 1950s. This is why they have characteristics of both cat breeds. The Himalayan cat, a breed of long-haired cat identical in type to the Persian, except for the cats blue eyes and point coloration, derived from crossing of the Persian with the Siamese.
Europeons refer to them as Colourpoint Persians Cats. They are cute, cuddly and adorable. The Himalayan is considered a breed separate from the Persian by The International Cat Association.
This beautiful cat is grouped together with the Persian and Exotic Shorthair (shorthaired version of the Persian) under a "Persian Breed Group standard". The Cat Fanciers' Association believe the Himalayan to be a color variation of the Persian rather than as a separate breed, although they do compete in their own color division.
Description and Characteristics of the Himalayan Cats
The head is massive and round with great breadth of skull, set on a short, thick neck. Like Persian cats, these cats tend to have a round (cobby) body with short stubby legs which makes it harder for them to jump as high as other cats do and complete with large round, really lovable eyes.
The ears are small and rounded at the tip, set far apart and low on the head. The tail is thick and short but in proportion to the body. It is carried without a curve and at an angle lower than the back. Adult males weigh 9 to 14 pounds; adult females weigh 7 to 11 pounds.
The Himmie is solid, not fat, with an overall appearance of soft roundness. Type is more important than size.
Himalayan cats generally have a white or a cream body. Their color markings, their points, are seen in different colors such as brown, lilac, red, chocolate etc.
Such point coloration can be seen in areas such as the feet, tails, face, ears. A Himalayan cat may have a tabby or tortoiseshell pattern in such areas as well.
Facial Features
Show Himalayans display a nose break as do show Persians (the "Peke" or "Ultra-Face" variety) and have very large, round eyes with the nose leather right between the eyes. Breeder or pet Himalayans tend to have longer noses than the show cats and may display a longer muzzle and smaller eyes than the show cats do.
Eyes are always in light or darker tones of blue for this beautiful cat. The face is quite flat, as is the case with Persian cats.
Temperament
Himmies, as fanciers call them, are perfect indoor cat companions. They certainly make very loving companions, which holds true for many cats! They are gentle, calm, and sweet-tempered, but they possess a playful side as well. Like the Siamese, Himalayans love to play fetch and a scrap of crumpled paper or a kitty toy will entertain them for hours.
Himalayans are devoted and dependent upon their humans for companionship and protection. They crave affection and love to be petted and groomed. Be sure to make an extra effort to create hidey-holes and play areas for your inquisitive Himalayan cat.
Care for Himalayan Cats
The Himmy cat (as it is referred to colloquially) or the Himalayan cat, have long and fluffy fur, making it so smooth to touch. This beautiful cat needs special care due to the long hair. The Himmy should be groomed on a daily basis.
Weekly baths are not uncommon in many catteries. If you spend loads of time grooming yourself, mark some time in your schedule as well, for this cats. Why? Because the fur of a Himalayan cat requires special grooming and care.
A soft brush is used to detangle any knots that may have formed in the cats fur. With Himalayan cats, be careful and alert about hairballs being formed in the stomach. Consult a vet immediately for a mild laxative if the problem arises.
These cats are also susceptible to health problems such as joint problems and abnormalities of the organs due to the inbreeding activities involved for commercial use.
Always brush the cats fur daily. This would keep it looking good at all times. A Himalayan cat may be required to be bathed regularly as well. Himalayan kittens may require their face to be wiped occasionally to keep it clean. Use a soft cloth in such cases.
Since their long fur may become a hindrance in the sweltering summer heat, Himalayan cats even have specific haircuts so they do not have an uncomfortable time in the summer. In such cases, consult a professional for the same.
A Himalayan cat may also tend to have watery eyes. Therefore, before planning to adopt a Himalayan cat, be aware of all it's health related issues so this cat is offered a comfortable life.
Whichever breed of cat choosen to have at home, remember this is a commitment. It is a duty to look after the cat in the best way possible. These gorgeous cats need all the love and care we can shower!
Entering a cat show the Himalayan requires a much more rigorous grooming schedule. (More rigorous, depending on the coat, may mean a bath every other day! This depends on the coat the Himmy is wearing.) For the most part Himalayans have been groomed and bathed since they were young kittens so they accept the process without too much complaining.
Breeders of the colorpoint Persian are sometimes criticized for breeding "extreme" cats with "pushed in faces" and "running eyes." Responsible breeders pay close attention to the overall beauty of expression no matter how short the nose.
It is possible to breed a beautiful Persian with a very short nose that breathes and tears normally. They are not proneto respiratory problems - they are generally healthy, vigorous cats.
Health Issues
Due to their Persian ancestry, some Himalayans may have the gene that causes Polycystic kidney disease, (PKD) but a genetic test can reveal which cats carry the PKD gene, so that they may be spayed or neutered.
Like many long-haired cats, Himalayans need to be brushed daily to keep their coats looking their best and healthiest. Additionally, they may need their face wiped daily, depending on the cat. Bathing a Himalayan is also recommended by some breeders, helping reduce the amount of oil on the fur and skin of this beautiful cat..
The fur on the body of a Himalayan is white or cream, but the points come in many different colors: seal (or black), blue, lilac, chocolate, red and cream. The points can also be tabby or tortoiseshell-patterned.
Chocolate and lilac point Himalayans are the most difficult to produce, because both parents must carry the gene for chocolate/lilac to produce a chocolate or lilac kitten, as the trait is autosomal recessive.
Colorpoint Classification Definitions
Blue Point:
A cat whose blue coat color is confined to the points: the feet, ears, tail, and face mask
Chocolate Point:
Chocolate color on the points (face mask, ears, tail, and legs), as opposed to the darker seal brown.
Cream/Flame Point:
These colors can be very close. There are hot creams and light reds. If both parent cats are definitely dilutes (blue, cream or bluecream), the offspring cannot be a flame point.
Seal Point:
Sealbrown color on the points.
Himalayan Cats Pictures

Abyssinian Cat

Balinese Cat

Bengal Cats

British Shorthair Cat

Burmese Cats

Chartreux Cat

Exotic Shorthair Cats

Korat Cats

Maine Coon Cats

Manx Cats

Norwegian Forest Cat

Persian Cats

Polydactyl Cats

Ragamuffin Cat

Ragdolls Cats

Russian Blue Cat

Scottish Fold Cats

Siamese Cats

Singapura Cat

Snowshoe Cat

Somali Cats

Tonkinese Cats

Types Of Cats

Cat Articles

Cat Pics

Home - Happy Cats Store